Slider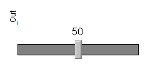 This function block can be used to input BYTE, WORD, LONG or FLOAT values.
The input is executed by using the slider with the mouse. The output value represents the position of the slider in relation to the given minimum and maximum value.
Parameters
In the parameter dialog there are three tabs available to change several preferences.
The first tab can be used for basic control parameter. These are the data type, the minimum and maximum value, the start value and the step size for the value change.
The second tab is used for representation preferences. Here the size of the function block, the slide direction, the general view mode, the colors of the different elements of the function block and the width of the slider button can be set.
The third tab is used for scale and value display options. Here can be defined, whether a scale is displayed at all or not and if so, its features can be set (position, with or without values, color and number of tics). The actual value can be set to be displayed or not, too. If shown, the colors can be chosen. Additional the general text size can be selected.
Signals
| Name | I/O | Type(s) | Function |
| --- | --- | --- | --- |
| OUT | O | BYTE, WORD, LONG, FLOAT | Output value |
Bemerkungen
This function block does not have any target system code.